3rd Phase List of Left Front Candidates in Parliament Election 2019
Open this link to see the candidate list.
Click here
.
Commoditisation and The Public Sphere: Prabhat Pattanaik
কমরেড অর্ণব বসু স্মরণে
অসম্ভবের ছন্দেতে
Fight Till the End
উইথ লাভ ইনকিলাব
Equal Opportunities, Equal Education, Equal Rights
Equality, equal rights have become trendy buzzwords in current times, be it with respect to caste, race, gender or class.
SFI West Bengal State Committee Organised The First Social Media Convention
COLLEGES GO ONLINE FOR ADMISSION
ChhatraSangram : Keeping A Diary of the Students' Movement
Students and Youths Organise Cycle Rally to Commemorate Golden Jubilee of Food Movement
FROM SHADOWS TO THE STARS
Chhatrasangram at Kolkata Book Fair
Ban on Campus Democracy : Students' to Resist
RESIST COMMUNALISATION
Strengthen and Expand the Organisation : 15th All India Conference
COMBAT COMMERCIALISATION OF EDUCATION!
Long Live Comrade Sudipto Gupta
Atrocities on Women
SINGUR TO SALBONI: DEMANDING EMPLOYMENT
PROBLEMS WITH CONDUCTING A COMMON MEDICAL ENTRANCE TEST
EYE FOR AN EYE !?!
SFI Observes Sudipto's 27th Birthday
This Time Around, All of Us Actually Have a Chance to Change Things
#Occupy UGC Movement
Condemn Dankore Incident
'Reclaiming the Campus and The Fight Against Depoliticization'
Resist Commercialisation and Communalisation of Education, Demand Education for All
STUDENTS AND YOUTH MARCH TOGETHER ON PRIMARY DEMANDS
The TET Scam and the Disillusionment of the Common Student
Education - The Threat of Unfreedom : Nilotpal Basu
Ritabrata Banerjee and Others Meet HRD Minister Regarding TET Exam
MINOR TRIBAL GIRLS GANGRAPED IN SALBONI, SFI DELEGATION MEETS THE RAPE SURVIVORS
DESTRUCTION OF THOUGHT : Prof. Prabhat Patnaik
Observing 50 years of Chhatra Sangram
SFI West Bengal State Committee Inaugurates Comrade "Ranjan Goswami Memorial Hall" at The SFI State Committee Office
Our right to be Marxist-Leninists : Fidel Castro Ruz
Viva Cuba, Once Again
Rebuild Nepal
TOO MANY, TOO SOON: an account of the terrorist attack on the Garissa University College
Challenging Cowardice : Our flags shall continue to rise...
2nd April 2015: Martyr Com Sudipto in Remembrance
Central Executive Committee of SFI calls upon its units to observe April 2, as the day of campus democracy.
SUPREME COURT REPEALS SECTION 66A
Ranaghat Rape Incident: Government Brands Protest as Conspiracy
"We're grief-stricken, but undefeated!"
SFI at the 39th International Kolkata Book Fair
What happened when Obama visited MODIfied India?
Education & Health in Gujarat
MINOR RAPED IN FALAKATA, INDECENT BEHAVIOUR OF POLICE TOWARDS MP
Students March For Peace on Campus, Against Private University Bill
Bengal Politics Will Rise from The Ashes
In Adda With Janam : Street Plays : A Weapon For Tomorrow
SFI Marches to Restore Democracy in Education Sector
KOLKATA WITNESSED PASSIONATE SURGE AGAINST COMMUNAL DIVISIVE FORCES
After Bilaspur Punjab Scores 60 in Snatching Our Vision
Let the Voice of the Campus Break the Slumber of the Streets
Interview with Teesta Sitalvad
The General Secretary on the Indian Institute of Information Technology Bill
Whether the world truly has become a better place for the children!!!
DEPUTATION TO CBI : SARADHA PROBE MUST NOT LOSE ITS PACE TO ANY LOBBYING
Police Lathicharge Students in Peaceful Demonstration Infront of the SSC Headquarters
Women Hardly Knew What They Were Getting Into At Bilaspur
UPDATE ON KHAGRAGARH
Remembering Comrade Sudipto Gupta : Fallen Comrade's Birthday
Ebola: Price Paid for Years of Oppression
The spreading of the Ebola Epidemic has been one of this year's biggest stories. The epidemic broke out in the three small Western African countries of Liberia, Sierra Leone and Guinea, and almost the entire burden of the outbreak is being borne by them. There have been four reported cases in the US (and a death) and a few in Europe, which have led to the belief that the epidemic is going global. However, the three countries and their neighbours have shut down borders. Guinea-Bissau and Cote d'Ivoire that share borders with the three Ebola-affected countries have not reported a single case so far. Mali has reported one death from Ebola, Senegal has had one case; Nigeria has had 20 cases and eight deaths so far. Both Senegal and Nigeria have no current transmission of the virus and have been declared Ebola-free. One case has been reported from Spain.
The Third State Engineering Students' Convention
Burdwan: People's Safety Should be Government's First Priority
SFI Calls For All Democratic and Progressive Forces To Stand United :
Students' Strike Tomorrow: Jadavpur VC must Resign
Changing Political Culture :Discussion organised by SFI
SFI Delegation Visits Dhupguri
WARRANTS BEING ISSUED AGAINST STUDENT LEADERS FOR PROTESTS, CRIMINALS ROAM FREE
Is Rape becoming the Norm for Punishing Girls in TMC ruled West Bengal?
West Bengal is going through a continuously escalating assault on human rights and democratic freedoms. As another spine chilling tale of extortion, violence and barbarism on innocent citizens unravels in North Bengal the common people are once again brought face to face with the hard and dark realities. A young girl, a class ten student, had shown up with the courage to speak out against injustice perpetrated on her family by the local Trinamool Congress. Her family's tormentors had her abducted, raped and left her disrobed body by the railway tracks.


Students Take Burdwan University By Storm : VC Refuses To Meet SFI Delegation
Dr. Nirmal Majhi Carries Forward the TMC Tradition
DOWN WITH BARBARISM – WHEN WORDS FALL SHORT
PORIBORTON: THE GROUND REALITY
Chronicle of a Death Foretold: Japanese Encephalitis
SAHARANPUR RIOTS
Mamata's Promise to Paint Again : A Warning?
Unity Shifts: From Statute to Statue
We Fight Today!!
"Hands off Palestine"
PROTESTANT VOICES CONTINUE TO BE STRANGULATED
B.Ed. STUDENTS LEFT IN THE LURCH AFTER SEAT-FOR-MONEY MUCK
Railway Fares Hiked : Demand for Student Concessions
State Medical Colleges Fail to Meet MCI Norms
SUSPENSION OF WORK AT JESSOP AND HINDUSTAN MOTORS AFTER GENERAL ELECTIONS
SFI Celebrates Foundation Day of Chhatrasangram
DEMANDS OF LEFTIST STUDENT ORGANISATIONS TO ENSURE TRANSPARENCY IN ADMISSION
Translate Your Struggle in the Campuses, on the Streets to Voices in Parliament
Demolishing The MODI Myth
Narendra Modi: A High Stake Project
A year of Turning the Highways into Boulevard of Resistance
The 2nd day of April, 2014 - exactly a year since the day our friend and comrade Sudipto Gupta succumbed to death from horrific injuries inflicted by policemen while in police custody. Today, at the call of the four leftist students' organisations over eight thousand students flooded into the streets of Kolkata demanding justice - a judicial probe and punishment for the offenders.
The 2nd of April: Unite In Remembrance, In Resistance
One year since our comrade, our friend, our leader Sudipto… Sudipto Gupta was killed... Killed in extraordinary circumstances, in the custody of police, who are entrusted by the law of the country to protect him, while he was exerting his democratic right to protest... to protest against the ban on democracy in college campuses.

The '2nd April' March
Students' Federation of India, West Bengal State Committee has called up on a huge and historical rally from College Street to Dharmatala followed by a mass meeting (addressed by Com. Ritabrata Banerjee, General Secretary, SFI and Com. Dr. Surjyakanta Mishra, the Leader of Opposition in West Bengal Legislative Assembly) on 2nd April 2014. The day marks the first anniversary martyrdom of our Com. Sudipto Gupta. We place forward the following demands to be addressed by the State Government:

Lok Sabha 2014 : An Election Campaign too MODIfied
Status of Minority Education
Atrocities Against Women Under the UPA Regime
EDUCATION
Health Let the facts speak
SFI Leaderships Spoke on the Contemporary Situation
Former State Finance Minister's Critique of the State Budget 2014
Summing Up the 2014 Students' Elections in West Bengal
On the State Budget
On the Interim Union Budget
Chhatrasangram at The 38th Kolkata International Book Fair
An Overview of Students' Union Elections
The rights for the democratic students' union elections were earned after relentless movement by Students' Federation of India, which includes the killing of our State Committee member Com. Sudipto Gupta on 2nd April 2013 in police custody demanding democratic students' union elections in our colleges.

Students' Strike on 6th January, 2014
Down to the US and West Bengal Government Line-up
The Leftist Students' and Youth organisations had called up on a protest rally in Kolkata to reject United States delinquency with an Indian diplomat on 19th of December, 2013. Huge numbers of students and youth gathered near the Lenin statue placed at Esplanade. The rally of hundreds of protestors walked in a confident manner towards the USIS situated there.
Farewell Madiba
Student-Youth Rally Condemns Police Attack on Eminent Personalities
SFI expresses deep concern at the destruction of life and property in the recent Phailin cyclone
Student Convention on 25th March 2013
Let the Voice of the Campus Break the Slumber of the Streets
Issues and Programs in West Bengal
In the last one month the west Bengal state unit has taken a number of organizational endeavors regarding various political and social issues...
অসম্ভবের ছন্দেতে
Fight Till the End
উইথ লাভ ইনকিলাব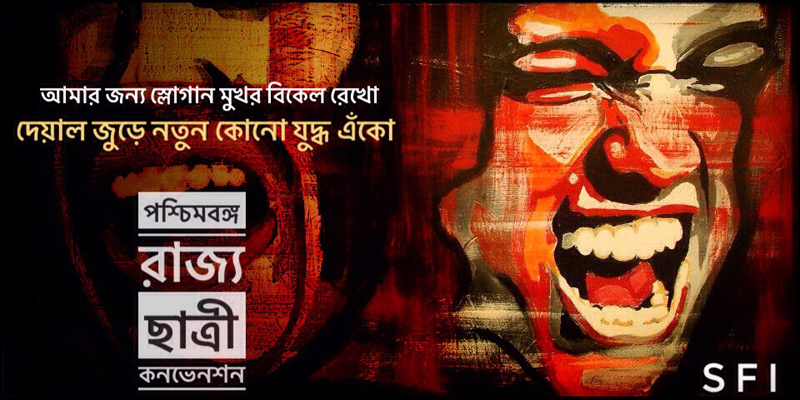 Equal Opportunities, Equal Education, Equal Rights
Equality, equal rights have become trendy buzzwords in current times, be it with respect to caste, race, gender or class.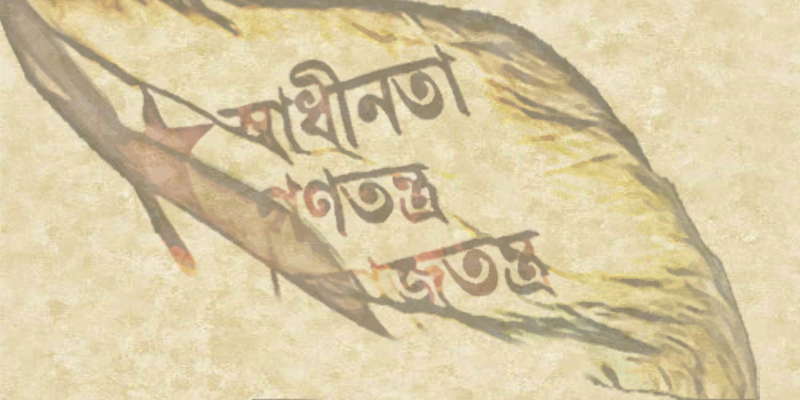 Condemn the Attacks on Kashmiri Students in Various Parts of the Country
Condemn the Attacks on Kashmiri Students in Various Parts of the Country.